In this report, dated December 1, 2021, we have prepared the technical analysis of SHIBA INU (SHIB), which was performed by the famous analysts of Cryptocurrency community, and we will share it you.
Recently , Bitcoin is being traded in the range of 56.6 to 57.8 thousand dollars, SHIBA INU is being traded today in the range of 0.00004466 to 0.00005398 dollars, a decrease of 7.29% compared to yesterday.
Be with Cryptoleda 
SHIB has broken the resistance
SHIB has broken the resistance in the past few hours, and now it's going back at support to get more volumes.
The market is showing Buy Volumes for this coin right now, so don't open any short positions without more confirmation.
There are two resistance levels on the way up and two support areas on the way down, which help hold the price up to consolidate.
"Review by ShawnMCR"
Shibainu token price movement
Today we are reviewing the SHIBUSDT pair
Shib Will be cost 0.0002 or 0.00002, Statistical error 900%
and it seems that we already have a whole series of successful ideas and forecasts of Shibainu token price movement.
Yesterday the info market received a statement about SHIBUSDT listing on the Kraken exchange and the price happily reacted to this news with growth.
The potential for growth on such news can still be about +35%.
However, you need to approach trading and speculating with such a volatile and manipulative asset with a cold mind. One tweet can both lift and collapse the SHIBUSD price by a lot of percents.
The critical levels for the price of SHIB, we've identified $0.000068-0.000070 from the top
and $0.000038 from below.
A confident fixing of SHIBUSDT price above $0.000068-0.000070 will open the way for x3 growth to the area of $0.0002
If the sellers defend the area of $0.000068-0.000070 and start to drive the price down, under different circumstances the fall may stop just around $0.00002.
Therefore, be careful and watchful: the main thing is to keep your deposit and increase it smoothly and confidently!
"Review by P_S_trade"
SHIB bullish breakout confirmations?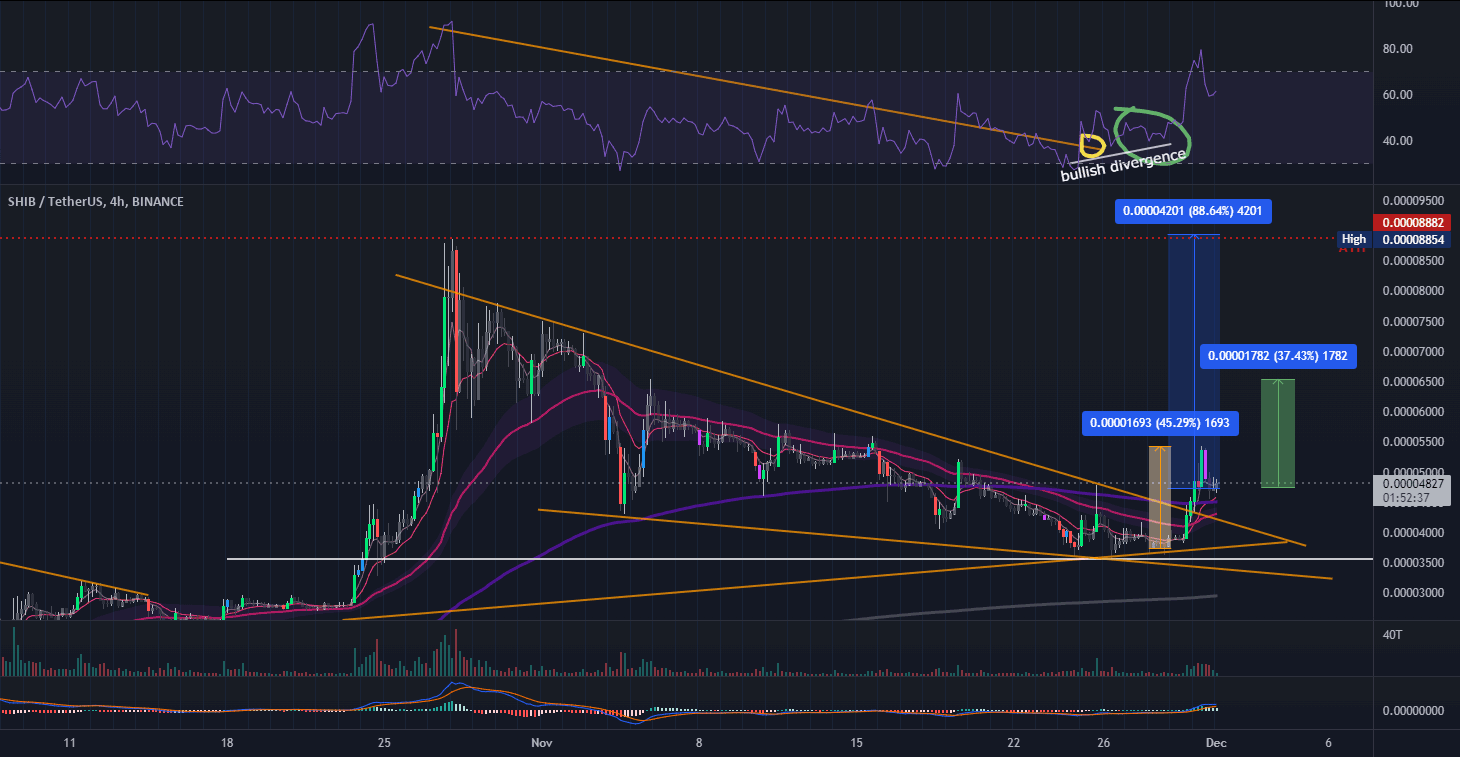 Shiba has now broken both the descending wedges + the RSI trend line on the 4h and the 12h + shows confirmation of Bullish Divergence on the 4h, which has developed into the pump of ~40% we've seen today.
RSI has cooled down in all timeframes and we are breaking out from the main RSI downtrend on the Daily as well while volume is increasing with closing green candles.
Currently retracing and holding shorter EMAs in most timeframes.
Expecting the next pump to retest the area of .00006500 where a 0.5 fibb might show strong support for further upside towards ATH .
"Review by a_stonk_a_day"
SHIB status and Conclusion
You did read about 3 analysts point of view, all of them was at the same idea they say it might grow! But remember this, technical analysis is not enough you have to check the news too, you have to check the leader coin (Bitcoin), Then you can clearly see what will happen next. Remember SHIBA is a meme coin! so don't invest too much on it.
Thank you for your time! if you have any idea about SHIB you can comment down below.
Disclaimer: None of these Analysis is not Buy or Sell SHIB recommendation, And this article is just for educational purposes so please just use this article for validating your own technical analysis.