In this report, dated December 7, 2021, we have prepared the technical analysis of ChainLink (LINK), which was performed by the famous analysts of Cryptocurrency community, and we will share it you.
Recently , Bitcoin is being traded in the range of 50.3 to 51.5 thousand dollars, ChainLink is being traded today in the range of 17.83 to 20.44 dollars, a increase of 13.2% compared to yesterday.
Be with Cryptoleda 
ChainLink – A Monster Move Coming!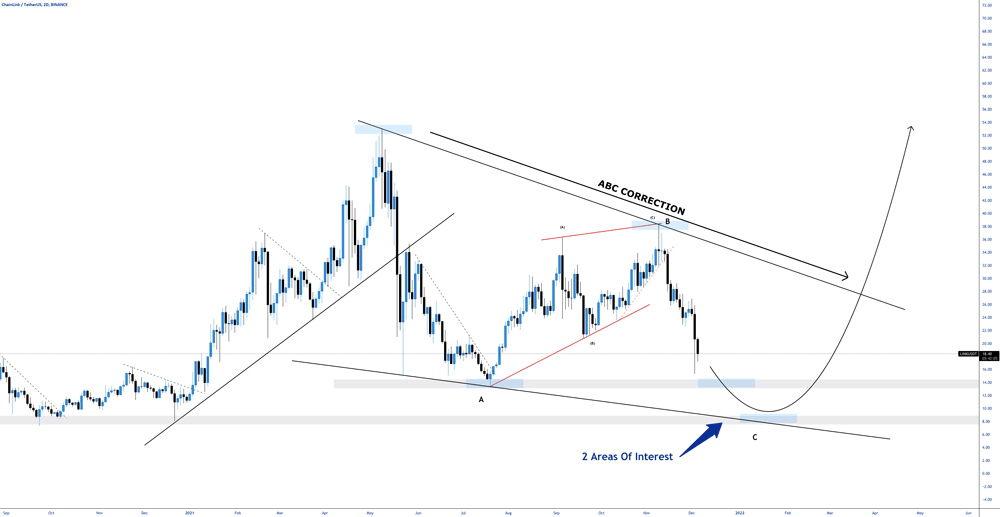 ChainLink is currently within an ABC correction. We are approaching 2 areas of interest where we will be looking to buy and HODL.
First area: $14
We previously reacted to that level and bounced off strongly. We could potentially create a local double bottom and then move higher from there,
Second area: $8
Price reacted numerous time to that level. We also have the correction support there which is an added confluence.
Trade Idea:
– Watch for bullish price action at one of the 2 levels mentioned
– When entered, keep SL below the price where price bounced from
– Target the recent highs as first target and HODL the rest as we may see the next big bull run
Remember to place your alerts on both areas!
"Review by Altsignals"
Critical Situation on ChainLink Chart
The Crypto market is now suffering from an intense drop since Bitcoin fell down below 52K level. And now a huge Head and Shoulders pattern formed on the ChainLink weekly chart.
The bullish and bearish scenarios depend on the very important key level at $15 – $16. If this support level breaks down the next important level to test will be around $10.6 and in case of losing this level the H&S pattern will be confirmed and the pattern projection will be around $3.9.
In another bullish scenario, the first key level at $15 – $16 will be held and the price will bounce at this level so we can expect to test the two important resistances ahead in order to achieve higher targets at $76 and $110.
"Review by farhadnmd"
Link – keep an eye on these scenarios!
Link is down 60% in the last few weeks. At the same time, there have been huge liquidations. There is a lot of volume at the bottom, which is a good signal. It is also worth noting that a trend line has been formed and the price is moving towards it little by little.
A false breakout of $15.3 or a breakout of the trend line would be a good buying opportunity.
"Review by Yuriy_Bishko"
ChainLink status and Conclusion
You did read about 3 analysts point of view, all of them was at the same idea they say it might grow! But remember this, technical analysis is not enough you have to check the news too, you have to check the leader coin (Bitcoin), Then you can clearly see what will happen next.
Thank you for your time! if you have any idea about LINK you can comment down below.
Disclaimer: None of these Analysis is not Buy or Sell LINK recommendation, And this article is just for educational purposes so please just use this article for validating your own technical analysis.